It's Five for Friday time! Here's a peek at what's been going on in my classroom this week...
Area & Perimeter
We have been hard at work this week on area and perimeter. We used the floor tiles to create shapes and find the area and perimeter of each one. Then, we used what we had learned to create a formula for finding the area and perimeter of a quadrilateral. My smarties even figured out how to use variables and the distributive property in their formulas!
BigIQKids
We just started using this website to practice vocabulary words, and my class is LOVING it! It's free, but there is a paid version as well that I haven't tried. As a busy teacher, I love that all I have to do is type our words in, and BigIQKids provides the definitions, sentences, etc. for me. Once my words are in, the games are automatically created and ready to go. There are spelling and vocabulary games, and as the teacher, I can select which games are part of our program. The site itself could use some design help, but it functions well, and my kids are asking me if they're "allowed" to play these games at home. (Umm... YES!)
GoNoodle!
It has been SO cold here lately, and my class is definitely suffering from need-to-go-outside-itis! Fortunately, GoNoodle's Indoor Recess MegaMixes are a great fix for their fidgets! If you haven't checked them out yet, you need to! They are on the GoNoodle tab at the very bottom and there are SEVEN(!)different mixes to choose from.
Cardboard Challenge
Today we are starting the Cardboard Challenge! My students will be using the Engineering Design Process to create a Valentine's card box. The project is based on a kid who built a cardboard arcade in his father's auto parts store. My students will be challenged to build a cardboard Valentine's box out of whatever they can find in our classroom or at home. I have a pretty high group this year, so to up the ante a little bit, I am requiring their box to have some kind of a game element like Caine's arcade has. They are so excited, and I can't wait to see what they come up with!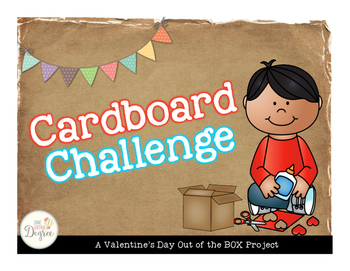 Standardized Testing
Ok, this isn't happening THIS week, but it is coming up very soon! We test the last week of February, and I am starting to plan review activities, test prep lessons, and some motivation & encouragement for my smarties. What are your favorite Test Prep activities or Test Week lessons/activities? I need some fresh ideas!
I can't wait to see what's been happening in everyone else's classroom this week! Head over to
Doodle Bugs
to check it out!